TH Bey's™ Probiotics
$

25.00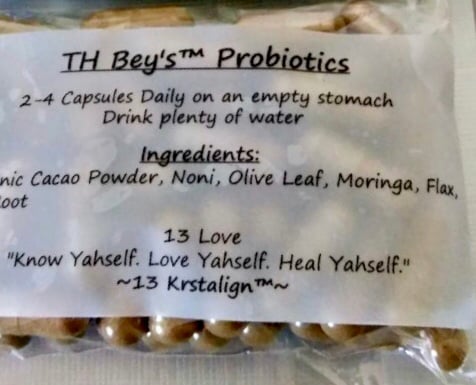 Our Probiotics are designed to help aid in maintaining a favorable environment for healthy gut flora. Within our gut there are over 500 different types of beneficial bacteria. Bacteria are a normal part of our microflora. The bacteria in the gut have several beneficial functions such as inhibiting the growth of pathogenic bacteria, aiding in digestion, and B vitamin synthesis.
Benefits -
1. Optimizes Digestion
2. Improves Absorption
3. Safeguards Against Infection
4. Strengthens Immunity
5. Improves Bowel Movements
6. Reduces Allergies
7. Promotes Detoxification
8. Undoes the Damage of Anti-Biotics
9. Promotes women's' health
10. Prevents Urinary Tract Infections
How did you acquire beneficial bacteria?
It all started at birth. During the birthing process, babies are exposed to their mothers' bacteria. After birth, breastfeeding provides additional exposure to the mothers' beneficial bacteria. Physical affection and day to day contact provide continued exposure for babies.
This early bacterial exposure is instrumental in the development of the immune system. It provides a protective barrier to the gut and a defense mechanism to protect against infectious diseases
As children grow they are exposed to more bacteria and by their second birthdays they acquire an identifiable population of microorganisms.
Throughout life, the numbers and types of bacteria an individual hosts will change. Good bacteria can be wiped out by the use of antibiotics, stress, poor diet, or by the ingestion of pathogens.

CHILDREN: Studies have shown that probiotics may help to treat infectious diarrhea in babies and small children. It is not clear that they have benefit in children with inflammatory bowel disease. In the breastfeed infant there is likely minimal benefit – breast milk stimulates the growth of normal gut organisms that are important for the developing immune system. Ask your child's pediatrician about probiotics before giving them to your child.
Ingredients - All Organic:
Cacao Powder
Noni
Olive Leaf
Moringa
Flax
Ginger Root
Suggested Uses -
2-4 Capsules Daily
Please allow up to 7-10 business days to ship.
Safe for all ages and women who are pregnant/nursing.
Drink lots of water!!
**CONSULT YOUR PHYSICIAN IF YOU ARE PREGNANT AND OR NURSING BEFORE CONSUMPTION.**
*DISCLAIMER* ALL SUGGESTED USES AND DOSAGE AMOUNTS ARE BASED ON PERSONAL EXPERIENCE ONLY AND SHOULD NOT BE DEEMED AS PROFESSIONAL MEDICAL PRACTICES. WE ARE NOT LISCENSED PRACTIONERS AND AS SUCH THE ABOVE INFORMATION IS NOT INTENDED TO BE USED AS PROFESSIONAL MEDICAL OPINION.
Availability
60 Capsules

120 Capsules

180 Capsules
Share