Fertility Tea
$

13.00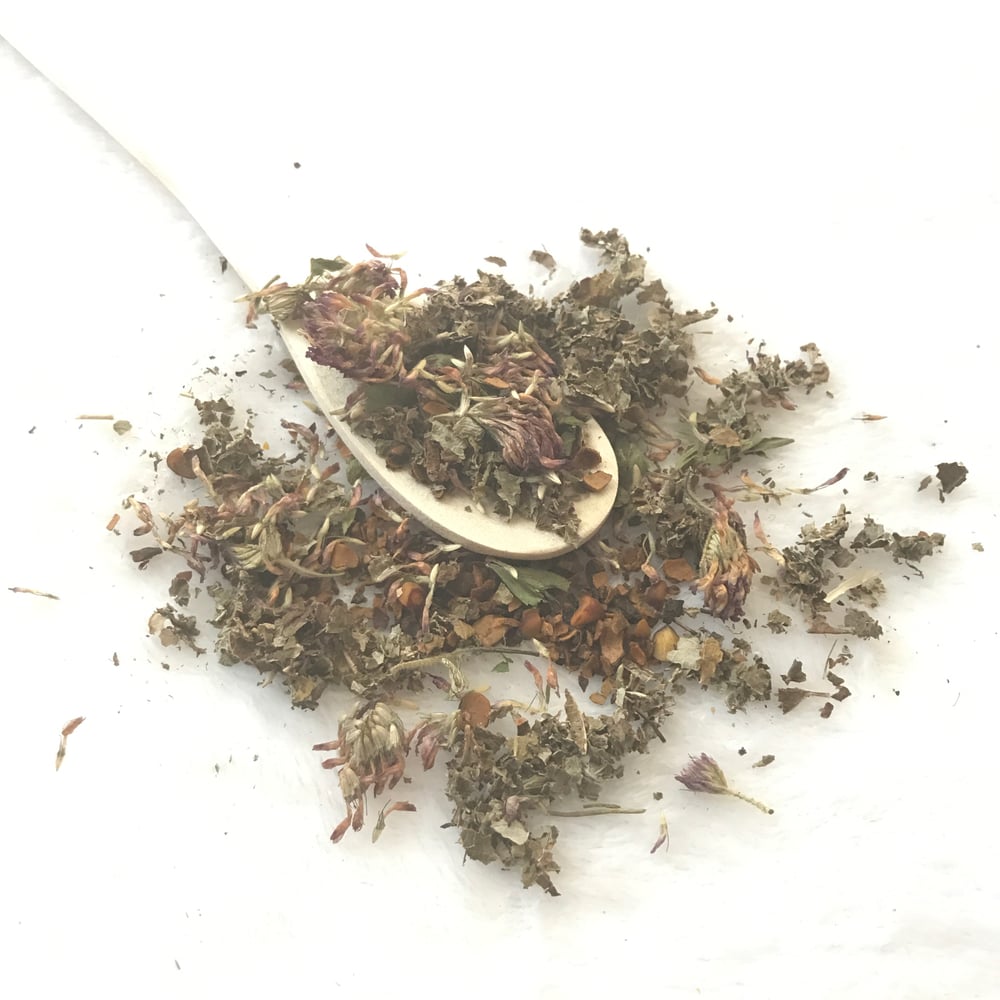 Our Fertility Tea herbs are specifically designed to help the body prepare for a baybee. Safe and beneficial for both man and wombman to use during this time.
INGREDIENTS -
- Saw Palmetto
Helps with the following:
Ovarian and uterine pain
Cystic acne
Chronic fatigue
Pelvic congestion
Hirsutism due to PCOS
Low Sperm Count
Low libido
Elevated levels of androgens
Irritation and anxiety
Stress
Low cervical mucous
Endometrial hyperplasia
Delayed puberty
Poorly developed secondary sexual characteristics
Prostate problems
Red Raspberry Leaf -
Helps with -
Recurrent Miscarriage due to uterine weakness.
Heavy Menstrual Bleeding: The astringent properties of this herb help to stop heavy bleeding. It is also high in iron which may help prevent anemia due to heavy menstrual bleeding.
Poor Egg Quality/Nutritional Deficiency
Uterine Trauma: If you have had surgery to remove fibroids, endometriosis, ovarian cysts or have had uterine prolapse, previous uterine hemorrhage or a Cesarean section this herb may help your recovery and healing of the uterus. The toning effect of Red Raspberry leaf helps the uterus to recover more quickly.
Helps prevent hemorrhage, making it useful for miscarriage, childbirth, postpartum healing, endometriosis, uterine fibroids and endometrial hyperplasia.
Red Clover -
Red clover aids in improved circulatory function; important to have good circulation to the genitals for reproductive function.
Increases cervical mucous, aiding vaginal dryness.
Red Clover is high in both calcium and magnesium. These are essential to proper bone formation as well as smooth muscle function. Both calcium and magnesium consumed regularly in foods like Red Clover help to reduce menstrual cramps.
Improves liver function, which is essential to hormonal balance.
Aids in digestion and is known to help increase appetite. This may be extremely beneficial for women who are trying to gain weight to increase fertility. This herb is also supportive of kidney function.
Chaste Tree Berry -
Vitex agnus castus
Regulates female hormonal imbalance Ovulatory irregularity, anovulation, amenorrhea, and other disorders related to hormone function in women.
Prevents and aids in the correction of cancerous cells of the breast, uterus, ovaries and cervix.
Suggested Use -
1 Ounce steeped for 4 hours in Quart Mason jar or the equivalent.
Strain and drink 1-3 cups daily for several months
Please allow 7-10 business days to ship.
**WARNINGS**
*ALWAYS CONSULT YOUR PHYSICIAN BEFORE CONSUMPTION.*
*DISCLAIMER* ALL SUGGESTED USES AND DOSAGE AMOUNTS ARE BASED ON PERSONAL EXPERIENCE ONLY AND SHOULD NOT BE DEEMED AS PROFESSIONAL MEDICAL PRACTICES. WE ARE NOT LICENSED PRACTITIONERS AND AS SUCH THE ABOVE INFORMATION IS NOT INTENDED TO BE USED AS PROFESSIONAL MEDICAL OPINION
Availability
Bulk Tea (4 Ounces)

Bulk Tea (8 Ounces)

Bulk Tea (1lb.)
Share